This weekends opening times for the 25th & 26th of June 2016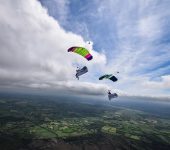 Special thanks to Lukasz Szymanski for this amazing shot that he took from last weekend.
Lukasz is one of our highly skilled camera men and tandem master.
This weekends weather forecast is not looking too bad.
Saturday & Sunday we are open as normal from 08.30am onwards.
If you are a student please arrive down early to get your names on the list.
We will have instructors available from 08.30am on both days.
Lets get ready for another great weekend.