Weekend opening times for the 7th & 8th of November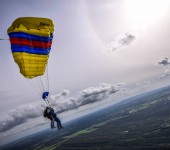 We are open on Saturday and Sunday from 08.30am onwards and if you have a voucher that you didn't get a chance to use just give us a ring to book yourself in.  We still have places available for Tandem and we are also running a Static line solo course.
We look forward to seeing everyone and fingers crossed on the weather.