WEATHER IS LOOKING GOOD FOR THIS WEEKEND 21ST & 22ND OF JANUARY 2017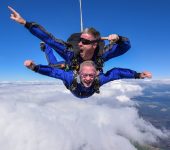 We are open this Saturday and Sunday from 08.30am onwards.  The weather forecast is looking good for all students and if you have a tandem voucher that you would like to use, just come on down.
We will have instructors available from early ready to jump, so lets get ready for another great weekend.
Blue Skies!