WE ARE OPEN THIS WEEKEND 14TH AND 15TH AS NORMAL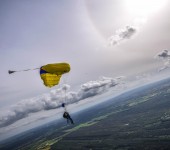 We are open this weekend as normal from 08.30am onwards on Saturday and Sunday.
The weather forecast is not great and if you are booked in for a Tandem skydive you can ring us on 1850 260 600 before you travel.
If you are a solo jumper hoping to learn how to pack we will have instructors and jumpmasters available.