We are OPEN this weekend Saturday and Sunday as normal from 08.30am onwards.
Our special offer for 2 people to jump for €450 will end on Sunday 14th. So if you are still thinking about what to buy for that special person in your life, just bring them down on Sunday for a tandem skydive.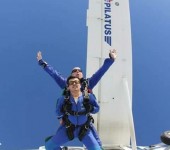 If you are a student jumper who hasn't jumped in a while just come down early, we will have instructors available on both days. We are looking forward to seeing everyone and getting back in the air.