STATIC LINE JUMP FOR HALF PRICE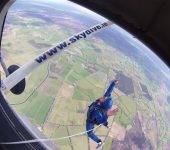 If you are one of the many tandem skydivers over the last 6 weeks who jumped and would like to become a member why not book in for a Static line solo jump for half price.  Normal price for a Static line course is €260 but if you have done a tandem over the last 6 weeks you can go solo for €130, this price only applies on conversion to Static Line.
The next Static Line course is on the 7th of May and you only need to ring the office on 046 97 30103 / 1850 260 600 to get a place.  So don't delay ring today.  We look forward to seeing you all again and lets get ready for a great season.