Opening times for the 21st & 22nd of May 2016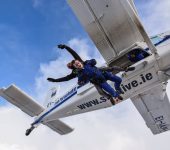 We would like to welcome all of charity jumpers for this weekend. The club will be open very early on Saturday and if you would like further information regarding the weather just give us a ring in the office. The office is open Monday to Friday from 09.00am to 5.00pm.
Sunday the 22nd of May we will be open from 08.30am onwards and if you are a solo jumper just come down early to get your name on the list.
Instructors for solo jumpers will be available from early.
We look forward to seeing everyone again for another great weekend.
Blue Skies….