WE ARE OPEN THIS WEEKEND 7TH & 8TH OF JANUARY 2017 FROM 09.00AM ON BOTH DAY'S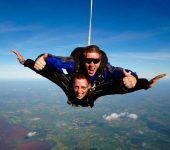 We hope that everyone had a great Xmas and we would like to welcome everyone for another year of great jumping for 2017.
If you have that Xmas voucher that you would like to use just give us a ring in the office on 046 97 30103 and we can book you in.  The office is open Monday to Friday from 09.00am to 5.00pm and we still have spaces available for this weekend.
We are also hoping to run a Static line solo ground school on the 4th of February and an AFF course on the 18th of February, we still have availability on these courses with limited spaces, so you need to get your name in fast.
We look forward to seeing everyone.
Blue Skies.