OPEN TODAY FOR THE BANK HOLIDAY WEEKEND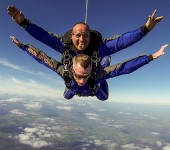 We are open today from 12.30pm for the bank holiday weekend. Saturday the 24th we are open from 08.30am onwards, Sunday the 25th we are open from 08.30am and we also have an hour less of daylight with the clocks going back an hour. Monday we are open as normal from 08.30am onwards, depending on the weather.
The Irish Wingsuit team hope to continue with their competition this weekend and hopefully they will get more jumps in. The competition will not interfere with Tandem and student jumping.
Lets get ready for a good weekend!!!