WE ARE OPEN FRIDAY, SATURDAY AND SUNDAY THIS WEEKEND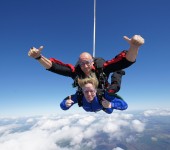 Let's get ready for another great weekend.  We are open Friday from 09.00am, Saturday from 08.00am and Sunday from 08.00am.
We are fully booked for Tandem students this weekend but if you have not got to do your jump because of weather over the past few weeks just give us a ring in the office to reschedule.  We are closed for the weekend of the 3rd & 4th of September but we are going to be back open on Friday the 9th of September from 1.00pm.  We are hoping to open most Friday's to give students a chance to get their jumps done.
Blue Skies….