Open as normal this weekend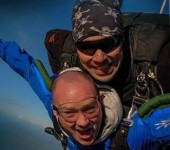 We are open this weekend Saturday and Sunday from 08.30am onwards. We have an AFF course on Saturday and hopefully the weather will be permitting for students to get their jumps.
We had a great weekend last week even with the weather and all tandem students got their jumps and some Solo students. This time of year you are better to be here at the drop zone waiting around because once the weather is suitable you will be in the air.
We look forward to seeing everyone.