WE ARE OPEN 5TH & 6TH OF MARCH AS NORMAL
This weekend we will be open as normal from 08.30am onwards. It is going to be a COLD one so wrap up well. Instructors will be available from early for all Static line and AFF students, so make sure to come down early to get your name on the list.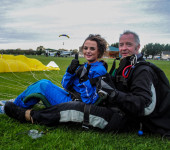 The weather forecast is looking good for Saturday (but its COLD) and Sunday is also not too bad but we may have heavy showers.
Don't forget MOTHER'S Day is the 6th of March, if you are still thinking of what to buy for your Mammy bring her down to us and get her to jump out of a plane.  Have a look at our FAQ's page about medical conditions and age or you can ring us in the office today, we are open until 5.00p.m.