Merry Xmas to everyone from the Irish Parachute Club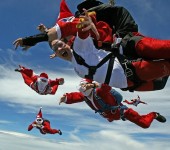 The club will be open on the 2nd and 3rd of January 2016, so if you would like to get the first jump of the New Year we will see you then.
If you received a voucher for Xmas and you would like to use it, just come on over.  We will be open from 09.00am onwards on both days, if you have a long journey just make sure to give a ring first to check on weather.
We hope everyone has a great Xmas and a Happy New Year.