MAY BANK HOLIDAY WEEKEND 2016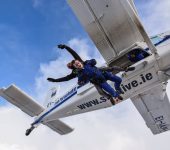 We would like to welcome all of our students for this weekend.
We are going to be open Saturday, Sunday and Monday from 08.30am onwards and we would highly recommend that you check in as early as you can.  For all of our solo jumpers your instructors will be here from 08.30am.
Lets get ready for another great weekend…..