Easter weekend opening times.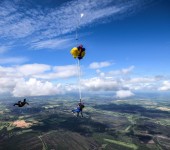 We are NOT going to be open on Good Friday but we will be open as normal from 08.30am onwards Saturday, Sunday and Monday.
A big congrats to all of our AFF students who were trained on the 19th and all got to complete their Aff level 1 jump on Sunday.  We can't wait to see you all soon.
We hope to see everyone at the weekend and we wish everyone a very Happy Easter.