COLD WEATHER MEANS GOOD JUMPING WEATHER
If you have been down before and just didn't get to do your jump because of weather, why not just give us a ring in the office on 046 97 30103 and book in.
The office is open Mon – Friday from 09.00am to 5.00pm and if you have any questions about our Xmas deals just give us a call.
We are open this weekend from 08.30am on Saturday and Sunday.  Its looking like it is going to be great jumping weather for all students, tandems and solo jumpers.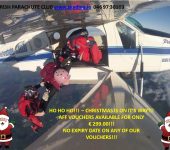 Its cold so remember wrap up well and lets get ready for another great weekend.
Blue Skies.