BUSY WEEKEND FOR THE 9TH & 10TH OF APRIL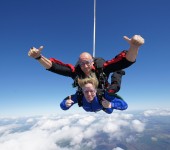 This Saturday the 9th of April we are open from 08.00am onwards and we would like to welcome all of our Tandem students from U.C.D who are jumping for Youth Suicide Prevention Ireland.  Months of organising has gone into the planning for this event and the students have done an amazing job raising their funds for YSPI.
If you are a static line or Aff  jumper remember check in as early as you can, your instructors will also be there early.  If the weather is not suitable to jump remember that bad weather days are the best ones to learn how to pack or get some refresher training.
Sunday the 10th of April we are open from 08.30am onwards and we look forward to seeing everyone.
Lets keep our fingers crossed for the weather now!!