Basic Canopy Control Course on the 4th of June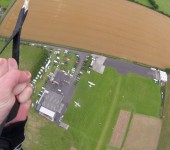 For all club members.
Colin Curran will be running a basic canopy control course starting on Saturday the 4th of June.
You can book your place on the course this weekend through the shop or you can ring the office Monday to Friday from 09.00am to 5.00pm.
Spaces are limited for this course and we would highly recommend that you book your place this weekend.
Priority is given to people looking to get their B Licence.
Colin will be available to discuss any details about the course on Saturday the 29th of May from 08.30am.