Another busy weekend ahead for the 11th & 12th of June 2016.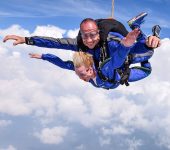 We would like to welcome all of our brave jumpers from Gaelscoil on Chuilinn from Tyrrelstown in Dublin 15.  They have put in a massive effort and we hope all of them enjoy a great day.
Over the last couple of weeks we have had loads of students jumping from static line and AFF.  We would like to congratulate everyone who have finished their AFF jumps and who are progressing very well on Static line.  Well done and keep up the good work.
A big massive congratulations to Rena Ta on completing her Jumpmaster rating.  Well done.
We will be open on Saturday the 11th of June from 08.00am and Sunday from 08.30am onwards.
Lets get ready for another great weekend.
Blue Skies.