7th & 8th of May 2016 OPENING TIMES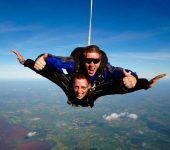 This weekend we will be open from 08.30am on Saturday and Sunday.  We will have instructors available from 08.30am onwards for all students.  If you are a solo jumper you just need to get your name down on the list early.
Hopefully the weather forecast is going to be good and we can look forward to warmer skies…
Lets get ready for another great weekend.